Bring the outdoors indoors, with a shutter system that allows you to retain your views, while enjoying outdoor areas year round.
We know just how important getting the right colour for your roller shutters is.  That why we offer a great selection of colours for both the profile and pelmets that match most of the standard Colorbond colours.  In addition to these standard colours you can select from a huge range of custom colours if needed.
Please note that the colours shown are provided as an indication only, and may vary due to differences in the way different screens display colours.  If you'd like to see rel samples of each colour (or perhaps a combination of colours), we can show you these when we perform a measure and quote.
Custom Colours & Combinations
Whilst many of our clients are looking for a roller shutter which matches their ColorBond gutters or fascia, we know that sometimes you have something very specific in mind.
This is why we offer custom colour mixing for anyone seeking something special.  For these occasions we suggest you take a look at the huge range of Dulux Powder Coating colours available.
Choose a custom colour
Additionally we offer the ability to add a strip of a different colour across your shutters.  This can give your windows a striking appearance, and soften the look of your roller shutters.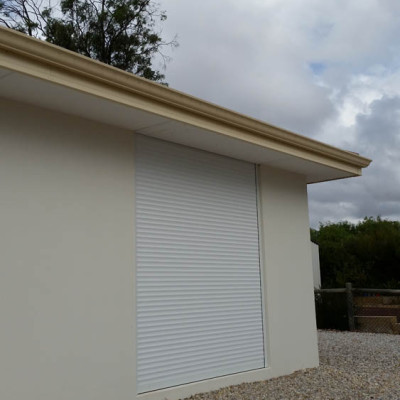 Ultra Discrete
At Ace Shutters we are proud to have pioneered a whole new approach to the installation of roller shutters, which completely conceals the pellet and tracks when the shutters are open.  We call this our "Ultra Discrete" installation.
Perfect for standard windows, this installation method hides the pelmet inside of the roof cavity, above the eves so that when your shutter is open, your outlook is completely unobstructed.  
On Wall / Face Fit
For traditional homes, which have shallow (or no) reveals, this method of installation, is simple and reliable, especially in the right colours.
Windows that open out will normally require a Face Fit Roller Shutter to ensure the window can continue to be
opened once the roller shutter has been installed.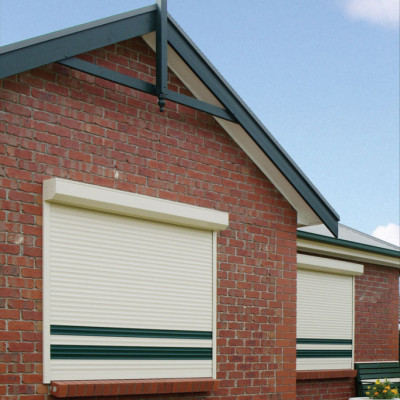 In Reveal
This is another common method. The pelmet appears smaller because it's in with the window. Please note that the pelmet and track does take up a percentage of the window.
With Reveal Fit Roller Shutters, it is important that the guides are installed a minimum of 50mm (5cm) from the  window face, but we'll check this is when we do your measure and quote.